Portfolio
Gary M. Collins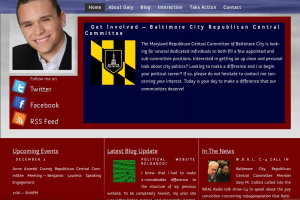 This is another polit­i­cal site that was done using Word­Press. Gary man­ages the cam­paign of the last polit­i­cal site I did. The back­ground employs very wide (1400 px) jpgs that have a fab­ric tex­ture, and a lit­tle CSS3 for those of you that use a real browser like Fire­fox 3.5 or Safari (in case you […]
[continue reading...]
Lawless For Maryland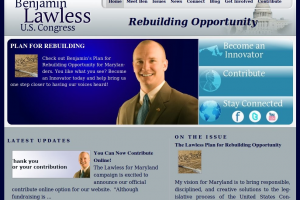 This site is yet another Word­Press imple­men­ta­tion mak­ing heavy use of tem­plate files and cus­tom scripts per page. Word­Press seems ide­ally suited for polit­i­cal cam­paigns and polit­i­cal web­sites for it's sim­plic­ity and ease of main­te­nance. The idea with this site was to make it look pro­fes­sional and make use of social tech­nolo­gies which politi­cians are start­ing to real­ize are nec­es­sary and smart.
[continue reading...]
An E Button That likely Won't be Used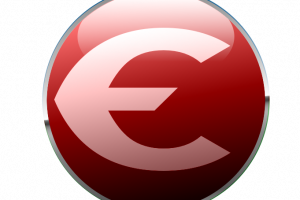 It's a glassy but­ton using a font that is made to resem­ble an eye. If you can think of a pur­pose for it, let me know.
[continue reading...]
Local Stalker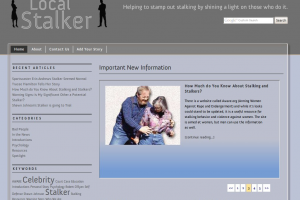 As per the way busi­ness has gone lately, it's a Word­Press blog theme. I love work­ing with Word­Press, and so do my clients. They get up and run­ning fast with an ele­gant look­ing design, and they can put what­ever they want on it with a very shal­low learn­ing curve. If you are pay­ing some­one for updates, you owe it to your­self to look into WordPress.
[continue reading...]
O.M.F.G. This Sucks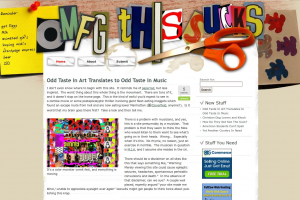 The site was designed to be kitschy and obnox­ious, which I think we accom­plished, but it was also sup­posed to be sim­ple. No move­ment (that isn't an ad) and no crazy plu­g­ins that do crazy things… Just a site where you can go and get a laugh at the expense of others.
[continue reading...]
Ain't Misbehavin' Gentle Dog Training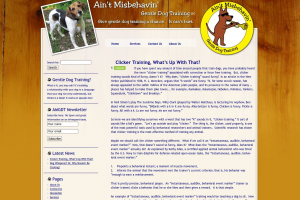 We started with a wood grain photo (from my old house) and faded it to a bright brown, then laid some graph­ics on it with a translu­cent con­tent pane. He is actu­ally a very good writer, and he also does a lot of legal work with ani­mals and ani­mal related orga­ni­za­tions. He's actu­ally help­ing the state of PA write anti-abuse and anti puppy mill laws.
[continue reading...]
Smith Investment Management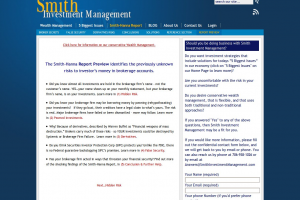 We took a few back­end items in this site and made them work together, so there is an under­ly­ing mem­ber­ship (con­ti­nu­ity) com­po­nent, as well as a pay­ment gate­way and newslet­ter func­tion. It has an auto-responder and a few other nifty gad­gets, all on a sim­ple, almost min­i­mal­ist sub­strate. The whole thing involved a great deal of edu­ca­tion so that the client could man­age the site himself.
[continue reading...]
Independent Struggle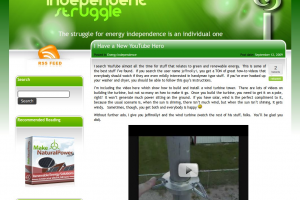 I did this site for fun, but I still dig it. I want to have more time to update it and put inter­est­ing things on it. The pur­pose of this site is to chron­i­cle my jour­ney toward energy inde­pen­dence. It hap­pens to be pretty green.
[continue reading...]
Chesapeake Tree and Outside Services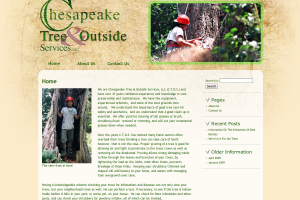 …they wanted a classy web­site that resem­bled wood and had a good deal of nat­ural color. I got to play around with this design, so there was a lot of room for experimentation.
[continue reading...]
Timeout Equine and Pet Sitting Service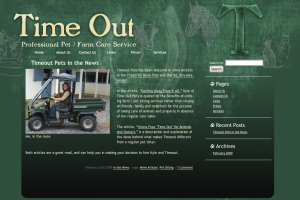 I enjoy sites like this. They're a-traditional, mildly grungy, not dark, but not light and use com­pletely non-standard col­ors. I have to hand it to the client on this one. She had a vision and made me real­ize it. I love work­ing with clients who know exactly what they want and wring it out of […]
[continue reading...]